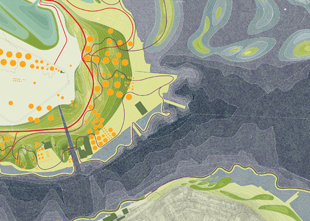 RISING CURRENTS, Working Waterline, New York City, NY
Team: Matthew Baird, Kira Appelhans, Kristen Becker, Nim Lee, Ajay Manthripragada, Maria Milans del Bosch
In a 10-week residency at PS1 in Long Island City, I worked with an interdisciplinary team of architects, landscape architects and an ecologist tasked with developing soft-infrastructure strategies to deal with the complications of rising sea levels. Conceived as a way to build on an existing body of research studying of effect rising sea levels on the upper New York harbor coastline, this project was organized by the Museum of Modern Art (MoMA) Department of Architecture and Design.
Ours was site 2: Bayonne, NJ and the north shore of Staten Island. We began by looking at the global impact of sea level rise and in the end approached the 'problem' with the idea of transforming local waste, from glass to dredge to CSO overflow, into ecologically productive strategies-developing a series of proposals that could work to create and protect habitat. The project is on display at MoMA through October 11, 2010.
click for slide show
All content copyright Kira Appelhans.